ManilART 2012 runs until Oct. 6 at the SMX Convention Center in Pasay City. As some people like to say, art is everywhere. This is especially true at festivals like ManilART 2012, which promises to be a one-stop showcase of the latest in the Philippine contemporary visual arts scene.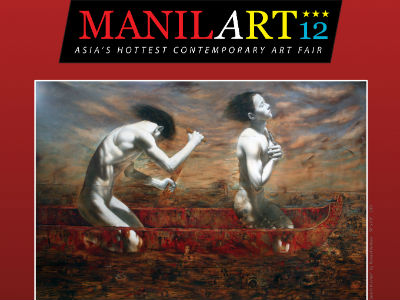 Despite the perception that art is expensive, organizers say the event can be exciting not just for seasoned collectors and art aficionados, but even for students on allowance. The sheer size of the event is overwhelming: 46 galleries, over 400 artists, and 1,400 works of art. Organizers said there will be something for everyone, from affordable pieces from young artists, to auction-worthy pieces from internationally recognized names.
National Commission for Culture and the Arts (NCCA) Committee on Art Galleries head Amy Loste said one of ManilART's objectives is to dispel the notion that art is only for those who are already established. "In fact, if you can buy a Starbucks coffee a day, you can buy art. Art should really be for everyone, especially the young. Kasi diyan yung fresh blood na tinatawag. Diyan nakukuha yung inspiration na tuloy-tuloy pinayayaman yung visual arts," she said in a press conference on September 26.
Even for those with no intention of buying anything, the event offers activities such as an art workshop and a walking tour. Visitors may also explore the fair and simply enjoy looking at the various exhibits. According to Galleria Duemila owner Silvana Diaz, what's important is cultural preparation.
"The most important is that you read, you learn, you see and your eyes get used to a certain aesthetic... you start from the ground," she said during the press conference, in a discussion of how art can be for everyone, despite certain pieces costing hundreds of thousands.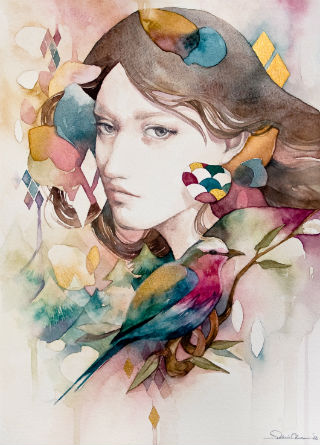 Self-taught visual artist Valeria Chua is among over 400 artists whose work will be featured in ManilART 2012
Aurora Representative Sonny Angara, a supporter of the event, said art appreciation is not an elite endeavor, but ownership is another thing. "I don't believe that art is an elite activity. Enjoyment of art—you can read about it, you can buy pictures for very affordable prices, you can go to museums, mura lang po yun," said Angara, who began buying art as a college student.
According to Angara, art fairs in other countries show very few artists who are homegrown, but at ManilART, "Ninety-nine percent of what we show is produced locally."
"It's truly heartening that there should be a small but active minority of young and old people who are still aggressively promoting the idea of the originality of Filipino artists, and the uniqueness of Filipino art. I hope this goes on on a larger and larger scale," said National Artist for Architecture Ildefonso P. Santos at the press conference.
Apart from allowing visitors to purchase artworks on-site, ManilART 2012 seeks to expose Filipinos to local artists and their work, which renowned sculptor Ramon Orlina said is a cut above the rest.
"We are quite ahead. Hindi naman sa yabang, because as you know si Ronald Ventura, he is one of the highest paid ngayon sa auction. And hindi madaling tumaas ang pagpresyo mo sa auction because sa auction ang mga buyers, international," Orlina said during the press conference.
Ventura is this year's featured artist, with his 2001 painting Crack in the Hull as the banner piece. Loste explained that they chose Ventura's piece, a modern reinterpretation of the Manunggul Jar, because it symbolizes bridging the old and the new. "Sa art naman laging, we have to dig from our very rich past, and translate it to the contemporary aesthetic, that is our bridge to the future," she said.
During the fair, The Mendez Big and Small art gallery will feature recent works from Ventura along with thirty other young figurative artists. It was in the late 1990s that Ventura got his first big break at Mendez Big and Small, which "encourages and displays every daring concept and contemporary challenge created by the mind of the young artist, and is the home of every artist who believes that freedom in art should not be merely stated, but must be practiced and presented to perfection," according to a press release.
Angara shared that when he was a college student, he was able to buy a piece by Ronald Ventura for 5,000 pesos. Today, Ventura holds the auction record for contemporary Southeast Asian art, having sold one of his large graphite, acrylic and oil on canvas works, "Grayground," for HK$8.42 million, or US$1.1 million, at Sotheby's Hong Kong.
"These are the kinds of young Filipino visual artists that we can really be proud of, and the reason we initiated Manila Art in the first place is because we want to tell them, 'You patronize Filipino art abroad, why not here in our home front?'" said Loste.
For those who wish to buy art, Diaz warns that it is not a question of appreciation and depreciation. "There are great artists who unfortunately because they are ahead of their time, they will not even be appreciated in our generation. Van Gogh for example, not even his brother who was a dealer was able to sell his work," she said.
For Diaz, buying art is about what pleases you. "Buy because you love it. if you buy for an investment it's like you play with the stock market. But art gives a satisfaction, gives a pleasure, gives happiness that no money can buy," she said. — BM, GMA News
ManilART 2012 opens with an invitation-only Gala Night on October 2, and will have its regular run from October 3 to 6, 10 a.m. to 7 p.m. at the SMX Convention Center in Pasay City. Tickets are P200 for adults, P150 for students. For more information, visit the website at http://www.manilart.com/