New York galleries are moving to the capital to attract business from wealthy 'non-doms' bringing a more corporate edge to the market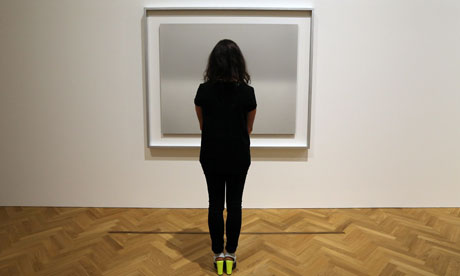 Pace gallery opened a new space in London recently.
London's art scene is becoming a "battleground", with major US galleries opening new and bigger spaces in the city as they vie to attract the capital's growing numbers of ultra-rich "non-doms".
Art experts said the arrival and expansion of four New York galleries in London ahead of the Frieze Art Fair, which opens on Thursday, reflects the competition at the top end of the art market, with American dealers needing to move here to gain business from wealthy Russian, Asian and Middle Eastern collectors.
The Manhattan dealer David Zwirner, whose eponymous gallery represents 40 artists, including Dan Flavin and Thomas Ruff, has now opened a 10,000 sq ft gallery in a Georgian townhouse in Grafton Street, Mayfair, its first outside the US.
Pace gallery, which represents 70 artists, including the estate of Mark Rothko, has opened a second, 9,000 sq ft London space in the Royal Academy's 6 Burlington Gardens, in addition to its existing outpost in Soho.
Skarstedt Gallery, which has artists including George Condo and Keith Haring, will open a 2,500 sq ft space on Old Bond Street on Wednesday.
The Michael Werner gallery, which represents artists including Georg Baselitz and Peter Doig, opened last month on two floors of a Mayfair townhouse in Upper Brook Street. Its London director, Kadee Robbins, said the move reflected that the capital has "a very wealthy, very savvy international community" of collectors.
As the gallerists feared in 2010, when Pace announced its intention to expand into London and Hauser & Wirth opened a new gallery in Savile Row, the established London galleries selling contemporary art now face a big challenge from foreign rivals on their own doorstep.
Judd Tully, a New York-based writer for
Art+Auction
magazine, said: "Essentially, what the richer galleries are doing is establishing new beachheads in London to find new collectors from Russia, Asia and the Middle East who are more comfortable there than in New York."
Nearly a third of London's 5,955 inhabitants who have a net worth of more than $30m (£18.5m) are non-doms, according to Wealth-X, a company that compiles data on the super-rich. Billionaire art collectors with homes in the capital include Lakshmi Mittal (net worth: £9.8bn), Roman Abramovich (£7.5bn) and Victor Pinchuk (£2.6bn).
Tully said the globalisation of the art market meant that New York galleries were no longer as likely to limit their expansion to the west coast of America. Big-name artists now want a global audience for their work and would jump ship to rival galleries to gain it.
She added that major US galleries also hoped to emulate the success of Larry Gagosian, considered the most powerful art dealer in the world, who has 12 galleries worldwide, including two in London. Pace has seven locations worldwide, including a space in Beijing, while Werner also has two galleries in Germany and one in New York.
Tully said: "Dealers don't want to lose artists because another dealer has opened a gallery in London. It's a major threat to Zwirner; he absolutely needs to expand to Europe because of the danger of his artists being poached. He's not lost an artist to another dealer except Franz West to Gagosian. Pace is a much older blue-chip gallery, but they're also forced to open [in London] because Gagosian would eat up a bunch of their artists."
Gagosian's latest addition is a 17,760 sq ft space in a former factory redesigned by French "starchitect" Jean Nouvel in Le Bourget near Paris. It opens this month with an exhibition by Anselm Kiefer – in competition with Austrian dealer Thaddaeus Ropac, who announced six months earlier that his new gallery would open at the same time with a show by the German painter and sculptor.
Several of the artists whom Zwirner represents, including Marlene Dumas and Chris Ofili, already have London galleries. Its London director, Angela Choon, said they will respect the relationships those artists already have with London galleries and focus on exhibiting other artists. Their opening exhibition is new work by Luc Tuymans, who has not shown in London since 2004.
Michael Werner opens with an exhibition of new paintings by Peter Doig, who is already represented here by Victoria Miro. Kadee Robbins said: "I hope we just leave it to the artists to see the best resolution for them."
New York-based art adviser Wendy Cromwell predicted that some of the larger London galleries may be upgrading their real estate. "The art world has become very event driven. There's a certain class of collector whom these galleries are going after who like to be seen at openings, at the Frieze Art Fair, who think bigger is better and more is more," she said.
Tully added: "It will be good for the London market to wake up, because the Americans are invading."
Several London galleries have recently moved to bigger spaces. Blain Southern is moving this week from Dering Street to a larger Mayfair space on Hanover Square. The not-for-profit David Roberts Art Foundation last month opened its new 12,000 sq ft space in Camden.
However, smaller Modern and impressionist galleries, such as those already under threat from two major property redevelopments on Cork Street, could find themselves squeezed as the competition among contemporary galleries intensifies.
Bernard Jacobson, whose eponymous gallery is one of the 11 under threat on the Mayfair street, said the developers' heads had been turned by the US galleries and that they planned to build fewer but larger art spaces in an attempt to attract big names. "They think they're going to sell 10,000 sq ft units to the likes of the Gagosian."
Cromwell said: "I could see them being forced out. Few if any of those galleries have street-level space in New York and what's happened here is really an indication of what is happening in London."
Harry Blain, co-owner of Blain Southern, who is considered one of Britain's most powerful art dealers, said the New York galleries' London expansion would enhance the city's reputation as a global art destination.
Curator and academic Andrew Renton, the director of Marlborough Contemporary, a new gallery opened on the second floor of long-established Marlborough Fine Art in Mayfair, said: "It confirms where we are as the central location in the world for contemporary and modern art. London has had a dynamic art scene for 20 years, but not necessarily a dynamic art market. Now we've got both."